How to set your card in the Burnside Village app and add it to Apple Wallet.
Click on the link in the SMS
Follow the prompts to add your Burnside Village Gift Cards to the app
Tap the 'Add to Apple Wallet button' to add your card to Apple Wallet.
We may verify your identity via SMS/email as part of the setup
If you have an Apple Watch, you will be prompted to set this up at the end
How to use Apple Pay
Apple Pay is the safer, faster way to pay in stores with your iPhone and Apple Watch. Quickly check out with the devices you carry every day.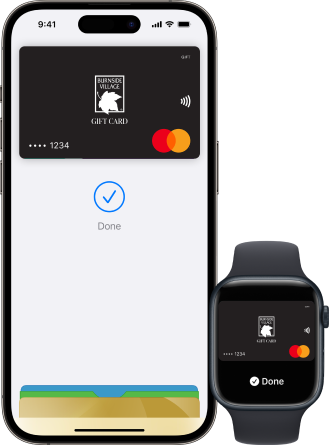 To pay with Face ID on iPhone
Double-click the side button, glance at your screen, then hold the iPhone near the reader.
To pay with Apple Watch
Double-click the side button and hold your Apple Watch up to the reader.
Apple Pay is also the safer and faster way to pay online and in apps because you no longer have to create an account or fill out lengthy forms. See here for help to Set Up Apple Pay on your device.
You can use Apple Pay wherever you see one of these symbols.
How to use Face ID with Apple Pay
How to use Touch ID with Apple Pay
Apple Pay FAQs
How to use Apple Pay
You can use Apple Pay to make payments at any merchant where contactless payments are accepted. Simply look for the contactless symbol or Apple Pay mark. You may also use Apple Pay in-app and on the web with Safari when you see the "Buy with Apple Pay" button or Apple Pay as a payment option.
What is my Device Account Number, and where can I find it?
All cards stored in Apple Pay are allocated a Device Account Number. This unique number ensures your payment information isn't stored on your device or shared with the merchant when making a payment. You can find your Device Account Number by opening the Wallet app, selecting your card and tapping the (i) symbol in the bottom righter corner.
Which cards are eligible for Apple Pay?
Apple Pay can be used with all Burnside Village Gift Cards.
Where can I find out more information about Apple Pay?
To find out more information on how to make secure payments and set up Apple Pay with your Card, please visit the Apple Pay webpage
What Apple devices are compatible with Apple Pay?
Apple Pay works with iPhone 6 and later in stores, apps, and websites in Safari; with Apple Watch in stores and apps (requires iPhone 6 or later); For a list of compatible Apple Pay devices, see here.